Next time you're in Hollywood, stroll over to the north  side of the 6300 block of Hollywood Blvd., and you'll come to the spot where they put a star on the Walk of Fame for the ol' spotted dog, Jim Lowe.  A lifetime devoted to American popular music is what put it there, and for giving radio broadcasting a good name in the years he was on  the air.  
You'll  find, below,  a recorded conversation Jim had with Doug Miles on WSRQ in Sarasota, FL eight years ago,  on  June 4, 2004,  followed by a David Hinkley story in The New York Daily News, from November 10, 2004, about a month after Jim retired, having conceded that "it is," as he often said,  "later than it's ever been." E.B.
A Voice For Classic Pop, Jim Lowe Calls It An Era
BY DAVID HINCKLEY DAILY NEWS STAFF WRITER
Wednesday, November 10, 2004
Frank Sinatra used to create a magnificent moment in his concerts when the lights would dim to black at the end of the Earl Brent/Matt Dennis song "Angel Eyes" and Sinatra would sing, "Excuse me while I disappear." Now it's Jim Lowe's turn.
At the age of 81, Lowe has retired from radio, quietly closing the door behind one of the last hosts from the era when golden-age popular standards were the music of mainstream radio. Late last month, he sent out the last broadcast of "Jim Lowe and Friends," a weekly show he syndicated.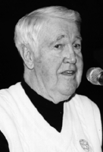 Lowe recorded the show live at small Manhattan clubs. Perched on a stool, he would talk with jazz singers, cabaret artists and others who keep alive the spirit of the American Songbook. Then he'd let them play.The show was low-key and unfailingly stylish. It was built on echoes of another age, but it was entirely in the present, reflecting Lowe's lifelong conviction that this style of music is far too vibrant and flat-out entertaining to become a historical artifact.
That said, it was never easy to put the show together or find stations to carry it in a radio world that mostly acts as if music started with the Beatles. But Lowe did it for six years, when he could have been relaxing in retirement at his Long Island home, just because he still liked it. "The show was a labor of love," he says. "When it became a labor, it was time to end it."
Born in Springfield, Mo., Lowe didn't come to New York as a crusader. He came as a songwriter and singer who in late 1955 had a hit with "Close the Door," then a bigger one – a No. 1, in fact – with "Green Door." He cut some songs his later fans might think odd, including "Maybelline," and he had almost as big a hit as Jim Reeves with the melancholy "Four Walls."
It was also noted that he had a great radio voice, and by 1962 he was doing Saturday nights at NBC Radio's "Monitor." A year later he joined WNEW-AM, doing the "Milkman's Matinee" and "Jim Lowe's New York," which featured listener quizzes on esoteric facts. He returned to "Monitor" from 1969 to 1973, then bounced back to WNEW-AM, where he revived "Jim Lowe's New York," did a spell on the evening shift and in 1982 became program director.
Neither he nor anyone else could save the station, which finished its own run in 1992. So Lowe, like others, took to focusing on the music."If all we do is keeping playing 'In the Mood,' we'll end up in a museum," he said. So he looked for new music that reflected the classic sound and style, and therefore could blend with the old. That's the music he listens to at home these days, he says, and that's what "Jim Lowe and Friends" was about. It carried the torch and helped to pass it.
One of those who picked it up, Jonathan Schwartz of WNYC and XM Satellite Radio, has known Lowe since the '60s and says Lowe's retirement, while well-earned, saddens him. "Jim Lowe, or 'Mr. Broadway,' is one of the passionate champions of the American Songbook," says Schwartz. "He is a dedicated friend of craft: He was born with the knowledge that 'home' does not rhyme with 'alone.' "                                             photos added by WNEW1130